Posted by Khush Singh-Celebrity & Indian Bridal Makeup Artist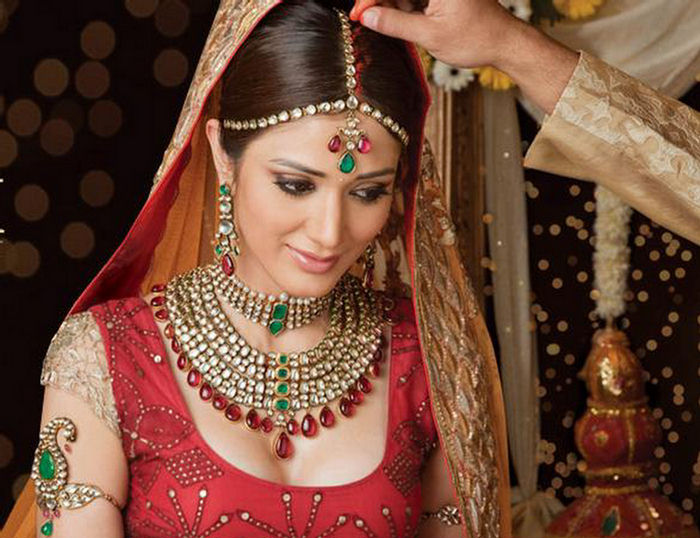 It's very complicated .You may choose a hair style looking at elaborative bridal hairstyle magazines but kindly accept my apologies as the news has it that you cannot have that dream hairstyle. Do you know what will decide your hairstyle? Wish to smack that object out? Go ahead, smack your face.
Our face is divided into three zones- from forehead to eyebrows, from eyebrows to nose and from nose to the bottom of chin. So one must choose a hair style that compliments one's facial features. The misconception here is that everyone mistakes their face to be perfect i.e. Oval. It is because of this that huge hairstyle blunders are created that too on the wedding day!
If you want to prevent yourself from the agony of looking at your wedding photos and cry out even when you have gained 50-60 years more to your age then read on.
What to do?
Visit your hair-stylist at least fifteen days before your wedding. Give them details about your attire and about all the ceremonies. The bridal hairstyle must compliment the costume or else the sensuous backless choli is going to be such a waste if you are planning to leave your long hair open.
Get the complete hairstyle done at least once with full hair accessories so that both you and your hair-stylist understand before hand if there is any room for alterations. It will save your time during the ceremonies as your stylist will already know what is to be done when you arrive to get ready. This will save you from frustration and you can enjoy your wedding without anxiety just as your family and friends would be enjoying
Comfort
Because Indian
weddings
are all-day events, choose a hairstyle that will be easy to maintain throughout the day. Avoid tight styles that can pull your hair and cause a headache after more than a few hours.
Tradition
The traditional way for Indian brides to wear their hair is usually swept off the neck either in a bun or other updo. This is a common choice because it keeps the neck free as the groom ties the mangalsutra, or a necklace with a significance similar to the Western wedding ring, around the bride's neck.
Classic with a Twist
Don't think that this limits you to a simple bun hairdo, however. There are plenty of modern versions of this classic look. Although the traditional low bun with hair split down the middle is elegant and perfectly appropriate, you can also mix things up by placing the style high on your head with curled hair pinned around it to create the circular shape.
A low side bun is another contemporary twist on the traditional. French knots or braided hairdos are also great options. Don't be afraid of a little volume to add interest.
Since Indian brides start the ceremony with a veil that matches the sari, hairstyles and decorations options may have limitations based on the veil.